Discover more from Converge Stories
**This website contains blog posts, vlog, and podcast conversations with John Henry of the YWAM Student Centre. It does not represent any official position held by Youth With A Mission, International.**
John & Mary Henry - serving with YWAM - July 2021
…Spirit lead me where my trust is without borders…
Aug 2021

Hello Friend,
Hi. Mary here again. In my quiet time the other morning I came across some notes I wrote back in Feb 2015. These words still resonate for me, especially as John and I are processing our next steps. Here's a summary of those notes:
"If my storm is prescribed, what do I need to learn?…We bear fruit, but pruning will come… Our good His glory… The easy way may be to go back, or stay where we were or what we knew… Faith + Action = Expectations, not Presumptions… It matters who you are trusting."
"You call me out upon the waters; The great UNKNOWN where feet may fail
And THERE I FIND You in the mystery in oceans deep my faith will stand;
…your grace abounds in the deepest waters…
…spirit lead me where my trust is without borders…
…wherever You would call me…and my faith WILL be made STRONGER."
- from Ocean, by Hillsong
I personally have a hard time singing Hillsong's 'Ocean.' I don't sing worship songs lightly. I sing them as a declaration of my faith. If I say those words, do I mean them? John and I are in that place now. Do we step out in faith? Do we step into the deeper water and know that He will catch us?  Will He really do it?  The world around me says "no," but God's word says something different.  Is my faith strong enough?
You might want to say, "But John and Mary, you've trusted God to provide all your needs and take you all over the world since you started with YWAM in 1985." That's true, but we are in a new season of life and this next part of our journey feels very new and scary. Please pray for us, as we pray and walk toward the 'deeper' part of the 'ocean' where God is calling us. We pray together almost daily about these decisions, and God is pruning away options and offers. God is beginning to confirm our next steps. May our faith be made stronger.
This month is busy; we are speaking in three different churches. We're reporting on what God has called us to do and we'll do some teaching from what God has been speaking to us. One of these events comes from an invitation by a former YWAMer who asked her pastor to have us come speak. Another is to give a seminar for the small youth group Becca has been leading at Korean church. We will be teaching about Love, Sex, and Relationships. We taught this topic together at an Indonesian church in Queens back in February 2020, just as that area became ground zero for the Covid pandemic. Pray for us and for the Korean youth; this is such a territory for the enemy.
John has already begun to get me more involved in the ministry. I'm so busy with so many things, but we will be working together again in our near future, so we're getting ready. For our donors, please see the new website and giving page at stucentre.com/give. Choose John & Mary Henry on the drop down list. All our staff and their donors are beginning to use the new donation process. John has re-certified most of the team of Internship Coordinators, and the Converge systems will now also serve any YWAMer leading outreaches or courses. We're very excited to introduce the YWAM Events App. Soon it will be available at the App Store and Google Play. Learn more: ywamconverge.org
Pray for us as we wait on the Lord for confirmations for our next steps. Yes, this will very likely involve a move from New Jersey. Pray for Becca as she needs to find herself ready to leave the 'nest'. Thank you for praying.
Love,   
Mary
John's Student Centre story
John was asked by the International Director, John Hwang, how he founded the Student Centre. Here's his story in less than 4 minutes.

Watch on Youtube
The Invitation
YWAM's international prayer day, called The Invitation, will be focused on the universities in September. Follow this link to get The Invitation every month. 
#PraytheCampus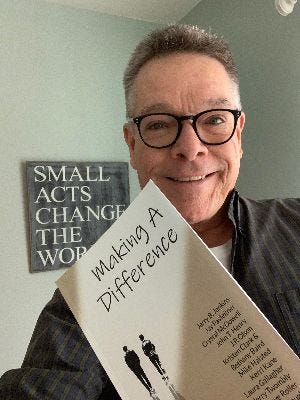 Free Book

John is giving away his recently released book, Making A Difference: How to Extend Your Influence and Transform Your World. He is not selling the book. However, he accepts donations to buy more to give away. He's given away the first two cases already. Sorry. We can't send them outside the USA right now. But if you're in the States, ask us to send you one. If you insist on buying it, then send a donation to help us buy more to give away. Oh, if you insist, you may order the book at Amazon. (Kindle $5 and paperback $20USD).
Prayer Requests
John & I pray together nearly every morning. Join us.
For Becca as she seeks a full time job and makes important life decisions.

For God's relentless pursuit of Justin, Nathan, and Becca, and our extended family.

For the release of the YWAM Events App & Converge 2.0

For Santiago for Christ, the coordination of multiple outreach teams to CHILE in July 2022. Would you like to go with us?

For new ministry partners to adopt us as their missionaries as we venture into the next thing God is leading us to do. If you trust God to lead us, please join our team. We are so grateful to you for your prayers and partnership in the gospel!