Discover more from Converge Stories
**This website contains blog posts, vlog, and podcast conversations with John Henry of the YWAM Student Centre. It does not represent any official position held by Youth With A Mission, International.**
June was a Whirlwind- Henry's July News
Whirlwind June
Hello Friend,
We got so busy in June that we didn't get a newsletter out to you. Sorry about that. We're still very busy, so I'm just going to post some photos with brief descriptions of some of the happenings this summer. 
Tonight we begin a Leaders Retreat with students from Stockton, Cairn, Eastern, Community College of Philadelphia, and a few High School students. Mauricio, our staff member from YWAM Philadelphia, and three other pastors from Philadelphia will help lead with worship, prayer, and relationship building. These young people and leaders have been part of the monthly open worship gatherings in Philadelphia, which we started in January this year. Mauricio will teach tonight the importance of the University in God's Mission, and I will give a biblical strategy for engagement with the university as a mission field tomorrow morning. Each of the students attending has indicated a desire to help lead campus ministries this year, so we are excited to pray with them. We have ten students. God continues to say we should not despise the day of small beginnings. God loves beginnings. 
Memorial Day weekend began a very full season of travels and guests. We went to Dallas for YWAM Tyler's annual staff conference. Half of Mary's brother John's family was in Ocean City before Mary's trip to Maine, and the other half of John & Elaine's family was here last week. Mary went to Maine with the Koinonia Girls from our small group in Richmond, VA, where we lived in the '90s. Yes, we love staying in touch with friends everywhere. 
While Mary was in Maine, I drove to DC to celebrate my Dad and Stepmom's birthdays and anniversary. It was a big gathering, so I saw Justin, Nathan, and Becca, along with three of my brothers and their families. Then I met Mauricio, and we drove down to encourage a new YWAM campus ministry team in Lynchburg, VA. I stopped back at home for a day to teach a men's bible study and then headed to New York to speak with elders of one of our supporting churches in Coxsackie, NY. Then, after praying on the campus of the University at Albany and Williams College, the site of the Haystack Prayer Meeting monument, which commemorates a student prayer meeting that launched the North American Missionary enterprise, I drove to Boston to encourage our YWAM team reaching out to international students at Northeastern University. As a senior leader and pioneer in YWAM Campus Missions, I host a weekly University Missions Circle web conference to give support and to pray with our university missionaries on five continents. 
Mary finished her second-level training in Transformational Prayer. She has met with several people for prayer. She's given me some instruction while she's practiced on me. I ran into a man in the parking lot at YWAM Boston. He recognized me immediately. He shouted my name and said we met in North Jersey about five years ago when I was teaching a Perspectives on the World Christian Movement course. He talked for a while and began repeating a word about being "stuck." I stopped him and said, "It sounds like you're stuck." I prayerfully asked him a few questions, and before long, he began telling me his story of abuse, which has him "stuck," not trusting leaders, and unwilling to commit to what he believes God is asking him to do. We prayed. He wept. And I encouraged him to seek further prayer, especially with Mary and her team of prayer counselors at Cross Counseling Ministries, led by Steve Freitag.
I picked up Mary at Todd & Tricia Johnson's house, and we went to Kinderhook, NY, to speak to the congregation at Christian Community Church, the fellowship that sent me out into missions back in 1985. They have supported us for 38 years. 
We came home to host John & Elaine's daughter Allyssa and her five kids. We don't have grandchildren of our own *yet*, but we sure get opportunities as great uncles and great aunts to several dozen family members. 
I must get to the Leader's Retreat now. Mary & I pray for God's richest and best blessings on your summer and family gatherings. Reach out if you would like to connect. We would love to hear from you. 
We love you! 
John
For Mary

P.S. Please join us in prayer for Loren Cunningham, YWAM co-founder, who has stage four cancer. He is working as hard as ever and with "no pain." God has given him another huge vision to complete the task of the great commission by praying for the Bible to get translated to the mother tongue of every remaining language group. Why? Because we pray that his kingdom would come on earth as it is in heaven. In heaven, every nation, tribe, and tongue is gathered around the throne. Let's do it. Pray for Loren and join this final mission! https://prayomt.com/

P.S.S. We are not charging these student leaders for this retreat. If you would, please pray about making a special donation to help defray the costs. 

P.S.S. Please pray with me for VAMOS! Our Discipleship Training in Venezuela. See below.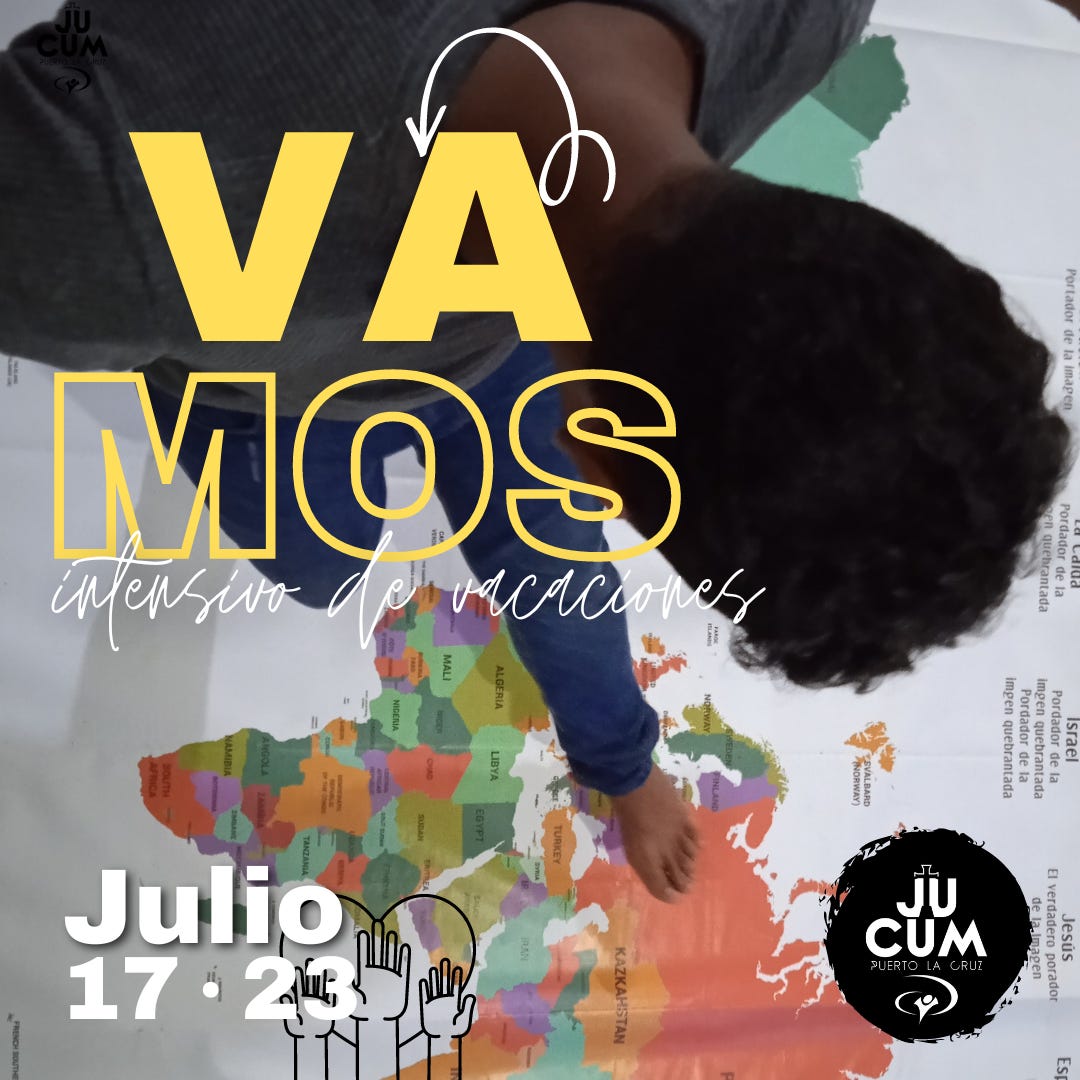 ¡VAMOS! is a short-term Missionary training and Biblical Discipleship program that has been a great blessing to all. From the last intensive, a young man became a full-time missionary, and right now, he is in his outreach in YWAM DTS. Three girls received inner healing regarding their family life and relationship with their parents, and 6 young men manifested an increase in their way of relating to God. The boys' parents have testified to the change in them.
Most participants are people of low economic status but with a high passion for the Kingdom of God. For this reason, we are looking for people to adopt them in prayer and support them financially. The cost per person is USD$40. Could you consider supporting one of them, supporting in prayer and with the amount that the Lord indicates? I invite you to pray and be part of this initiative.
If you're a person who has a passion but doesn't have the time to participate, why not adopt one of our applicants who can't afford to pay?
Your prayer and your offering can be the spark of faith that a missionary heart needs.
Get in touch with us 😉

Yrismar Paraguan
YWAM Paraguan Venezuela
You can also support by sharing this information
Just so you know, you can send your support to YWAM Student Centre, attention YWAM Paraguan.  

CLICK HERE TO DONATE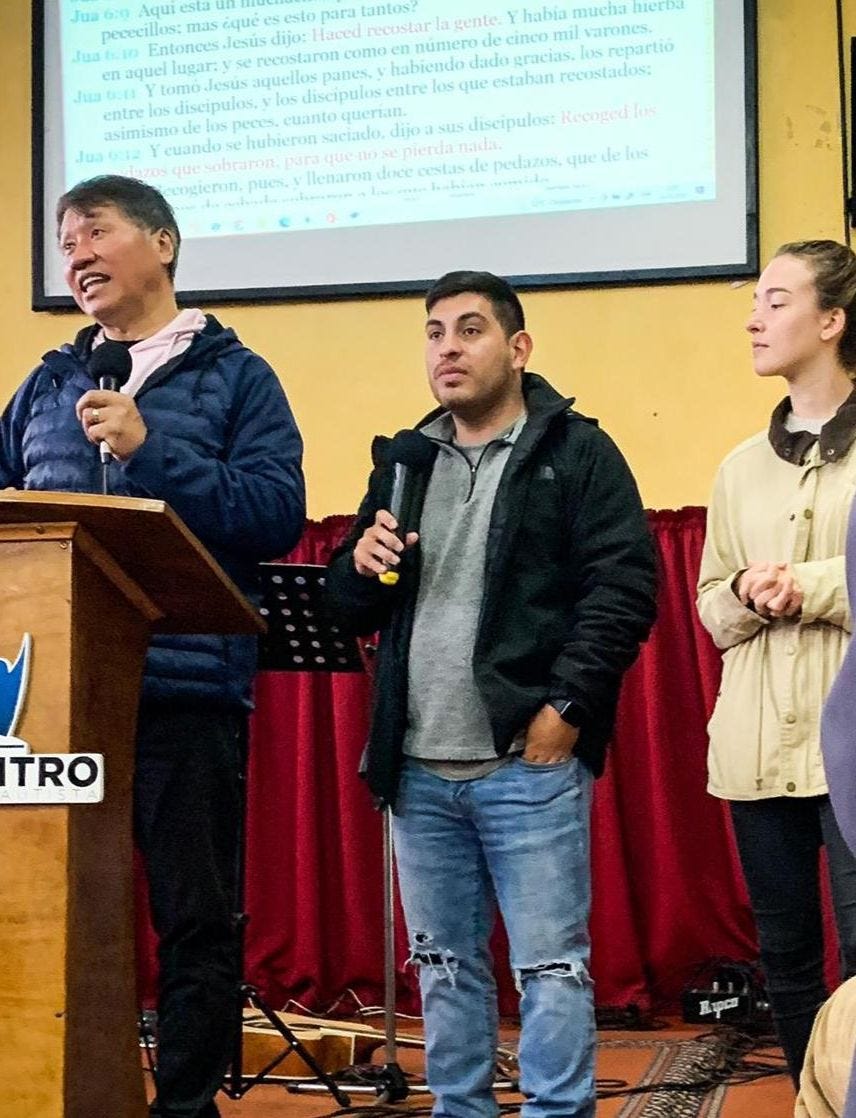 Pray for Chris and Rachel, who just married and are now in the DTS in Cartagena, Colombia. Chris and Rachel helped lead our first DISCIPLE Course on the Stockton Campus. They joined the missions team in Chile last summer and are embarking on the next level of missionary service with YWAM. 

For Justin, Nathan, and Rebecca to receive a fresh experience with Jesus.

For Mary's ministry of Transformational Prayer and for people to find emotional healing

For our ministry partners to be encouraged and blessed

For more partners to adopt us as their missionaries for stewardship of God's resources.

Pray for students. God is pouring out His Holy Spirit at Stockton and Philadelphia!

For the YWAM circle of University Ministries serving campuses around the world.