Discover more from Converge Stories
**This website contains blog posts, vlog, and podcast conversations with John Henry of the YWAM Student Centre. It does not represent any official position held by Youth With A Mission, International.**
Standing in the Fire! - Henry's April News

Standing in the Fire!
Hello Friend,
Mary had no hesitation in speaking in Tampa when we were in Florida a few weeks ago, visiting our friends, Pastor David & Natalie Bamberry. Normally, Mary would decline the offer or shake like a leaf when speaking to groups of people. But that's changed. Why? Because she's been getting deep emotional healing through her Transformational Prayer Ministry training. Mary started her second training phase, and she's been practicing with me too. What a unique ministry! Both of us have been finding healing as God continues to show us things from our memories/childhood that we didn't even realize had an emotional hold.
Mary and I are excited about how God will use her to help others. Here's why. You cannot know your calling if you do not know your story. Emotional wounds prevent us from knowing our story. Without our story, we cannot know our calling. Emotional healing is key to helping students (and anyone) discover their calling. 
I have been meeting with Colombian, Puerto Rican, Pakistani and African American pastors in Philadelphia for five months to launch a young adults' open worship night. I turned them down when asked to be the keynote speaker at the event. I said we need to limit our role to preface or post-script messages to make room for young people to respond. Last Friday's gathering of 50 young adults was like standing in the fire! Holy Spirit came with power and deliverance for one young girl. Several young people came forward to proclaim God's word, testify, sing, and rejoice in His presence. The photo shows our YWAM staff member, Mauricio, as he led a warm-up game at the beginning of the evening. Serving Mauricio as he pioneers campus ministries in Philadelphia is a privilege. And God is doing it!
The outreach for our Stockton University DISCIPLE Course will begin the week of April 10 with campus evangelism, Bible distribution, and a large worship gathering. Last week I taught on Spiritual Warfare & Hosting God's Presence along with Shelby, who testified about her DTS outreach to Saudi Arabia. If you have prayed about it, this would be a good time to join our support team. Let me know if you have questions or want a copy of our 2023 ministry plan. Thank you for your interest and prayers for this ministry. Thank you!!  
We love you! 
John
For Mary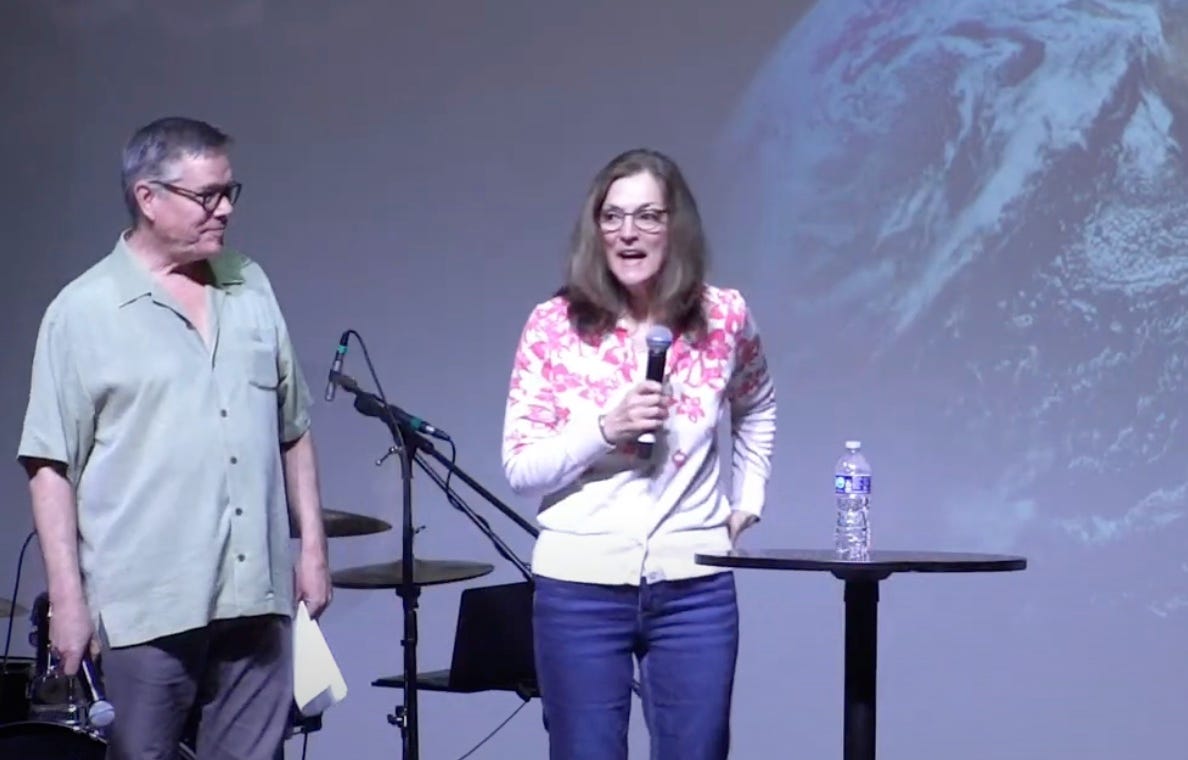 MARY SPEAKS IN TAMPA, FL
Mary began her Level II Transformational Prayer training. She is learning to help people connect negative emotions to relevant memories to help them uncover the wrong belief that's causing them pain. She's found victory too, by speaking beautifully about our ministry. Watch Mary speak at the beginning and near the end of the service at Cypress Creek Church in Florida (starting at 34:02). WATCH NOW

GATHERINGS IN OUR HOME
We frequently host groups and visitors from nations and distant places. This photo is the team from TX that we hosted. They gathered to pray for us and for our ministries. I led two book groups (Nonverts, by Stephen Bullivant & Our Bodies Tell God's Story, by Christopher West).
Nonverts, by Stephen Bullivant
The United States is in the midst of a religious revolution. Or, perhaps it is better to say a non-religious revolution. Around a quarter of US adults now say they have no religion. The great majority of these religious "nones" also say that they used to belong to a religion but no longer do. These are the nonverts: think "converts," but from having religion to having none. There are currently has about 59 million of them in the United States.

Nonverts explores who they are, and why they joined the rising tide of the ex-religious. Get the book at Amazon.
Our Bodies Tell God's Story, by Christopher West
This book provides a redemptive rather than repressive approach to sexual purity, explores the true meaning of sex and marriage, and offers a compelling vision of what it means to be created male and female. Get the book at Amazon.
For Justin, Nathan, and Rebecca to receive a fresh experience with Jesus.

For new ministry partners who adopt us as their missionaries for their stewardship of God's resources.

Pray for students. God is pouring out His Holy Spirit at Stockton and in Philadelphia!

For Converge Internships in Florida, Kenya, India, and Colombia.