Discover more from Converge Stories
**This website contains blog posts, vlog, and podcast conversations with John Henry of the YWAM Student Centre. It does not represent any official position held by Youth With A Mission, International.**
Three Big Dates this Year! - Henry's March News
Three Big Dates this Year!
Hello Friend,
We are celebrating a birthday this month. John has a big one.  It is fun because along with his big 65th birthday, it is also a big birthday for me later in the year (I'm not telling!). And this year is our 35th wedding anniversary.  So, we are trying to decide how to celebrate big this year. We have always wanted to go to Italy. We couldn't on our 25th because we moved here to care for my Mom.  
We are in the midst of hosting a YWAM team from Tyler, TX. My niece, Emily, and her husband are leading the team. She taught in the DISCIPLE course on campus.  
My brother Rick and his wife Karen are also stopping by for a quick visit and to celebrate both John's and Karen's birthdays (They were born the same year too). 
We continue supporting YWAM staff friends Mauricio and Diana, pioneering student work in Philadelphia. And doors are open for a visit to Jordon later this year. The YWAM leader there wants interns, and he is starting a student ministry. We sent interns there before, but this could become a permanent partnership. These initiates are answers to our prayers and your support.  Thank you for continuing to pray with us for young people and for colleges to be reformed back to God's original purpose. 
My first training session of Transformational Prayer has ended.  What an amazing ministry!  I have been practicing on myself (and John). Both of us have been finding healing as God continues to show us things from our memories/childhood that we didn't even realize had an emotional hold. Both of us feel more joy.  
I start a second session later this month.  I am excited about what God will do in me and how He will use me to help others. We have learned that emotional healing is key to helping students discover their calling. 
We are so glad to know you. Please pray for this ministry, and consider donating as God leads you.  We look forward to all God has in mind as we stand against strongholds, especially in universities. Thank you!!  
We love you! 
Mary
For John

P.S. We have seen a few answers to our prayer for an immediate monthly support increase. God is answering prayer. We're so grateful God is supporting this ministry through you.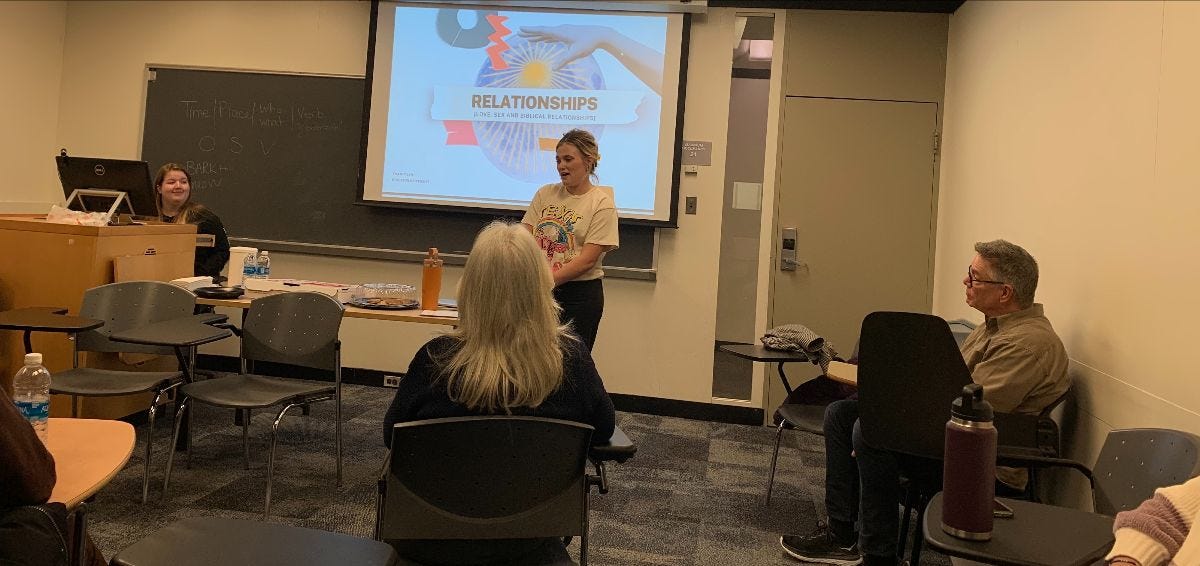 DISCIPLE @ Stockton University
We had my niece, Emily Allegretto Huerta, and the team she and Anthony are leading from TX here this week. Emily taught on Love, Sex, and Biblical Relationships in the DISCIPLE Course at Stockton University.  We have a small turn out, but God is taking the students deeper every week. John and Billy Librizzi are organizing a local outreach. 
Mary is enrolled in the 10-week Level II Transformational Prayer training. She is learning to help people connect negative emotions to relevant memories to help them uncover the wrong belief that's causing them pain and to hear God's truth for healing.
For Justin, Nathan, and Rebecca to receive a fresh experience with Jesus.

Pray for students. God is busy moving among campus,' and we pray He would pour out His Holy Spirit at Stockton.

For our monthly University Student Worship Gatherings in Philadelphia.

For Converge Internships in Florida, Kenya, India, and Colombia.

For new ministry partners who adopt us as their missionaries and their stewardship of God's resources.