Discover more from Converge Stories
**This website contains blog posts, vlog, and podcast conversations with John Henry of the YWAM Student Centre. It does not represent any official position held by Youth With A Mission, International.**
Where the love lights gleem - John & Mary - Dec. 2020
John & Mary Henry
celebrating 35 years with YWAM
December 2020 Christmas Eve will find me Where the lovelight gleams
- Songwriters: Kim Gannon, Walter Kent
I'll Be Home For Christmas lyrics © CARLIN AMERICA INC, GANNON & KENT MUSIC C
Hi Friend,
Hello and Merry Christmas! This is the end of our 35th year with Youth With A Mission!  Dr. Seuss wrote a popular children's book called, Oh the Places You'll Go! And that is what happened. Never did we ever think God would take us to so many places. All we had to do is say, "Yes, Lord!"
We started in Hammonton, NJ where we were sent by our home churches to get missionary training with YWAM's entry-level course, the Discipleship Training School. We were a couple of singles and we became fast friends. But more like brother and sister. Mary became my best friend.  John remained there on staff with the School of Evangelism and Mary traveled a bit as a nanny to Hawai'i.  Then Mary did a leadership course in Switzerland.  John was praying and fasting about how God uses university students while pioneering an international student ministry at Dartmouth College. Dating and getting married were highlights of 1988  along with getting settled in Tampa to pioneer anther campus ministry.  In 1989, we were invited to lead student internships in Kona, HI. We stayed there for two years taking teams from there, mostly to Asia.
In 1990 Justin was born. At 3 months old, we brought him to Mexico with an internship team and we returned to the mainland. We continued leading internship teams after we returned to Florida.  We returned to work alongside our YWAM team led by Rick & Karen Allegretto. In 1992 Nathan was born in Miami and Hurricane Andrew destroyed our condo and kicked us out of Florida for good.  It was razed to it's foundations, so we "owned" a slab of cement with all payments for three years before we could sell. Argh!
We settled in Richmond, VA and continued the Internship program from there for 7 years. God brought us to China where we met and adopted Rebecca in 1999.  During that year we were asked to join the YWAM ministry in Madison WI where student ministries were a main function of the base.  We continued the internships and also got involved with international students. Here the kids grew up and to this day call Madison home.  We were there13 years.
Then, in 2013, we responded to the call to help serve Mary's mom in Ocean City, NJ. She passed away, but we're still here until Becca finishes her undergraduate degree at Rowan University this Spring. Wow! Where will God take us next?.
God's word to Mary before making her commitment to YWAM after DTS and SOE was to 'Pack your bags.  You will be like the tents of Abraham.' Well, for sure that has come to pass. Our bags are a bit dusty and we have been praying and waiting to see if the Lord will say it's time to GO! once again. For now, we will be home for Christmas in 2020.

We are thankful for the Lord's faithfulness toward us and our family over the years.  Please check out our Look Back over 35 Years with YWAM below. It's incredible! We also are grateful for you for your obedience to your call to send us.  Merry Christmas! Thank you for sharing the journey with us!
Blessed Christmas,  

John & Mary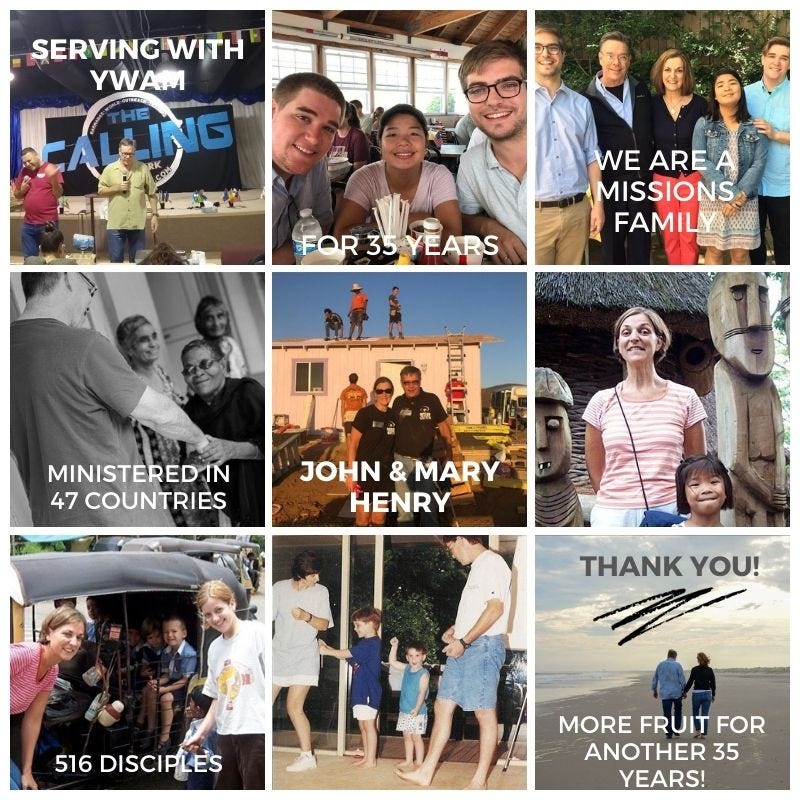 Looking Back on our 35 Years of Missionary Journeys with YWAM
1985-86 - Sent for missionary training from home churches in New York (John) and South Jersey (Mary). Discipleship Training School (DTS); School of Evangelism (SOE) in Hammonton, NJ; then Mary to Kona, HI; John staffs SOE.

1987 -  Mary to Youth Leadership Course in Switzerland; John pioneered Campus Ministry at Dartmouth College

1988  -  Moved to Florida; Got Married!; Pioneered Campus Ministry in Tampa.

1989-90  -  Invited to Kona, HI to lead Internships. First teams to Asia, E. Europe & C. America; Justin was born.

1990-92  -  Moved to Miami - Led internship teams to C. Amer; Nathan was born; Hurricane Andrew blew us away!

1993  -  Moved to NJ - Launched Mission Bridge Course at Praise Tabernacle in NJ with outreach to St. Croix.

1994-98  -  Moved to Richmond, VA; Led internship teams to Africa, S. America, and Asia; Invited to form international team for new UofN Centre.

1997  -  UofN Student Mobilization Centre was commissioned by UofN Board of Regents; Led internship teams to Europe & Africa.

1998  -  Moved & Mary led office in Kona, HI; John took Humanities Course in Kona, HI; Led internships to Asia.

1999  -  Returned to Richmond, VA; Adopted Becca; Internship to Africa.

2000-03  -  Moved to Madison, WI; Internships to Asia, Europe & Africa

2003-04  -  Moved to India; Launched School of University Ministries in New Delhi.

2004-13  -  Moved back to Madison, WI; University DTS and 6 more Schools of University Ministries in India, Thailand, S. Korea, Colombia & USA; Internships to Asia, Africa, S. & C. America. John completed the MA in Global Leadership at Fuller Seminary.

2013-19  -  Moved to Ocean City, NJ; Produced 2 UofN Catalogues & Began development of Converge Internships Program; ran the Converge DTS in Ocean City, and the first Converge Interns to Europe & the Middle East, 3 local Discipleship Training Courses with teams to N. Ireland and Atlantic City, 2 Schools of University Ministries in Ecuador and Brazil; 5+ Workshops (USA and abroad), and local church Homes of Hope team to Mexico.

2020  -  Mary & John taught a Relationships Workshop in Queens, NYC; Then the Covid shutdown forced cancellation of trips to C. &  S. America, and Europe. Soe, we began multiple Zoom Workshops, Seminars, Mentoring, and Team Meetings. We launched and trained 25 Internship Coordinators from 9 countries on 5 continents. This year we processed 485 Inquiries. Registered 37 Internships and 49 student applicants for 13 projects.
Our YWAM Ministry has taken us to 47 Countries to train and send 516 Students and Staff to serve on campuses and as missionaries in spheres of society.

EVERY PRAYER, EVERY SACRIFICIAL GIFT, EVERY OPPORTUNITY IS TO THE GLORY! OF GOD
By the grace of God, we will see more fruit in the next 35 years!
Prayer Requests
Pray for Becca as she completes her final year at Rowan University. 

Pray for Nathan as he gets settled in California, and continues to look for work.

Pray for Justin. He has completed his studies and seeks work in California.

Pray that we reach our goal of 100 Internship Coordinators in 2021.

Please pray about becoming one of 30 ministry partners to join our financial support team. 
We so appreciate you!
Thank you for praying for John's biopsy bills. We raised all but $300 of the total so far. Thank God he does not have cancer. However, we expect at least one more bill, especially because they need to continue to monitor high numbers. 
Clickable Map of Student Projects
We've started a clickable map of former student interns' projects and locations. Take a look and pray with us for hundreds more testimonies of the knowledge of the glory of the Lord covering the earth! https://ywamconverge.org/explore/stories-reports
Our Vision

To know God and Make Him Known through Every Sphere of Society.  

Our Mission

Connecting Students to Christ's Mission.

Our YWAM Converge Team
To date, in 2020 we have raised over $195,000 for 11 YWAM Converge Staff and 3 Projects. Learn more about our YWAM Converge team of missionaries and their projects.

TAP HERE